Our cold water outdoor and sport pools closed in September 2023, opening expected in May 2024. The outdoor thermal pool remains open all year.
At Gyopáros open air pools surrounded by a park offer a wide range of entertainment for visitors arriving in the town.
Youngsters, middle-aged and elderly people, couples, families, visitors arriving alone or with a group of friends will find the proper pastime in the neat, almost twenty hectare park with outdoor pools.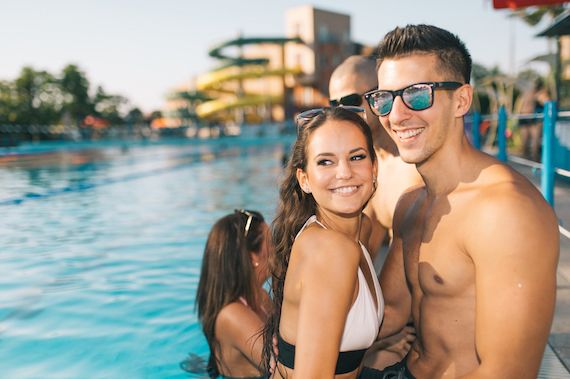 The open air zone of the complex is as popular with the visitors as the adventure pools or the thermal pools. What is more there is a layer of visitors who prefer the park with the purpose to be close to the nature. For all visitors arriving to Gyopárosfürdő the open air pools and the park offer various programmes: every summer there are concerts, sport events and other entertaining programmes. Furthermore there are different permanent attractions and services that guarantee the unforgettable pastime.
The lake offers the possibility of boating and water biking. Indoor and outdoor thermal pools serve heath preserving and improving purposes, while sport enthusiasts can have fun in the swimming pool or learners' pool. Members of the elderly generation, parents or grandparents can enjoy the positive effects of the thermal pools, while youngsters can have fun in the stretched surface pools, children can spend happy hours in the children's amusement pool.
The park offers "waterproof" entertainment possibilities for enthusiasts of traditional sports such as beach handball and beach volleyball. A grass football pitch is tempting the visitors to play a good match.
Photo gallery: Open air pools and park
Photo gallery: 50m swimming pool in the park