Orosháza-Gyopárosfürdő
5904 Gyopárosfürdő, Fasor street 3.
Phone number: +36-68/512-260
E-mail: info@gyoparosfurdo.hu
Opening hours
From 15 May to 21 June 2021, we will continuously open different units of our spa according to our schedule.
IMPORTANT: According to the current legal regulations, we can currently only receive guests with Hungarian, Romanian and Serbian citizenship, but also only those who can present a VALID PROTECTION CERTIFICATE, an identity card and an address card upon entry from the age of 18 – regardless of whether they want to enter the outside or inside of our spa.
Gyopárosfürdő, known in Hungary as Pearl of the Lowland, is a park, adventure bath and therapy centre, sports centre, unique natural value offering water related programmes in the same time.
The complexity built west from Orosháza, a town of 30 000 inhabitants, has become a secret tip for relaxing, recreation among bath lover tourists seeking summer or winter experiences, within and across border.
The stunning beauty of the lake and its surroundings, the healing property of the water has been tempting tourists seeking recovery and bathing facilities to visit the place for more than a century. Thanks to investments made in the past and recent years Gyopárosfürdő has become, without exaggeration, a spa of national importance and popular among tourists.
The operating company of the spa, Orosházi Városüzemeltetési és Szolgáltató Zrt., is permanently trying to satisfy the visitors' demand with the wide choice of services, prices, opening hours, summer and winter programmes. The results are shown by the countless positive feedbacks received from visitors on different blogs and comments.
No wonder the Spa gets so many compliments, as the complexity lying surrounded by a 20 hectare park, offers a wide variety of programmes for those who arrive for a day, a weekend, a week, or for even longer period of time.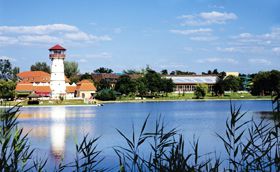 Families, couples,fans of sports, culture, cycling, fishing or even photographers will find the proper pastime at Orosháza and its surroundings.
From cheap apartments to expensive hotels everybody can find the accommodation with tariffs fitting his purse. In a pleasant environment visitors can feel close to nature and enjoy the wide choice of services satisfying all demands, ensuring complete recreation of both body and soul.
HD-imagefilm about the autumn in Gyopárosfürdő (2018)
Pictures of Gyopárosfürdő
Pictures of adventure bath and therapy centre
Pictures of sauna park
Pictures of park and beach
Map of Gyopárosfürdő