Our Spa – including our adventure pools, the thermal spa, sauna park and medical department – is CLOSED from 11 November 2020 for an estimated period of 30 days. More information…
If there is any a romantic experience in the hasty world of today, bathing at night certainly is.
We respectfully inform our dear visitors that the night bathing will start again from July 4, 2020!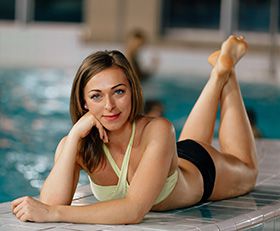 The atmosphere of a summer night at Gyopárosfürdő mixed with the spa experience is available every weekend, guaranteeing an experience unlike any other for everyone who are ready to visit the spa complex after sunset, together with their sweethearts or friends.
The starry skies, the soft summer night breeze, leaving a tender touch on their shoulders, awakening romantic feelings as well as an intimate emotion of Nature's presence – an experience shared by everyone who has already dipped in the pool on a warm summer night, while staring at the starry skies beyond the softly glittering lights of the skyline. This is the time when emotions become more intense, refreshing our souls as well as our bodies.
Night-time Bathing Timetable
Saturday Night Spa Adventure
You can have a night-time spa adventure on Saturday nights, when the adventure pools and the sauna park are open until 22:00. The thermal bath is closed after 8 pm on Saturdays.
See our office hours' page for further details. You have to buy a separate ticket for night-time bathing – see our price list for details.
Sauna seances
Some weekend nights are made even more memorable with sauna sessions at the renewed sauna park of Gyopárosfürdő – you can find further information on the exact dates and times at the events' pages.
Pictures about bathing at night