The sauna park with ten cabins is open on some days of the week till midnight.
Visitors will find a wide choice of saunas: the dry Finnish sauna at a temperature of 60-70 and 70-80 Celsius degrees, an aromatic cabin and a bio-sauna with phototherapy at 50-60 Celsius degrees, a danarium sweating visitors at a temperature of 30-40 Celsius degrees, a steam cabin with 100 % of vapour content and temperature of 45-50 Celsius degrees and last but not least an infra-red cabin of insures perfect recreation – some days till midnight. (for further information see opening hours).
The sauna park consisting of ten cabins welcomes not only the fans of the sweaty hobby, but those who are experiencing the fantastic world of sauna for the first time, those who are exploring the ceremony of sauna rituals, this century old method of health preserving. Qualified masters of ceremony help the exploring visitors to do the first steps in the world of saunas, they explain the process of a sauna, give useful advice and warn about the possible dangers.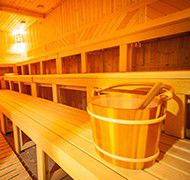 In a wonderful environment the cabins give relief to various problems, they have different effects on the visitors. While the dry sauna has mainly a detoxificative, anti-cellulitic and immune reinforcing effect, the aroma cabin is refreshing, vitalizing, pores cleaning and respiratory tracts. The bio-sauna with phototherapy cures with the power of the colours. It is calming, relaxing and detoxificating in the same time. The steam cabin is relaxing, recreating, while it is good for the respiratory system. Visitors who are searching thorough detoxification, fat burning, relaxation of muscles, metabolic stimulation – the infra-red cabin is the best solution.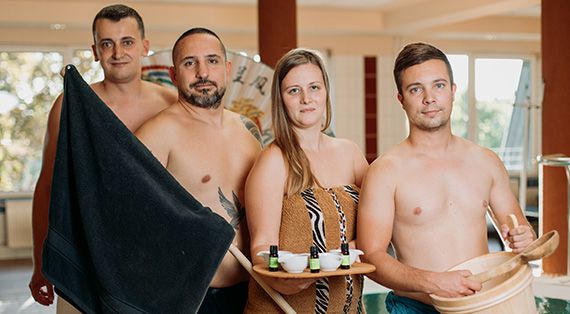 Not to miss: visit our sauna seances in autumn, winter and spring!
Pictures of sauna park