Gastronomic tour: local specialities – banana, bread and wheat germ pudding.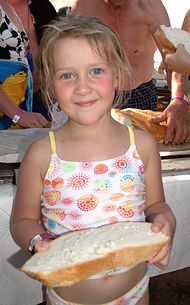 The multi-coloured feature at Orosháza is present not only in culture and economy, but in the field of gastronomy as well. We can find effects of traditional farmer culture, of the mixed tastes from different regions, of the slovak minority. As a result of this unique mixture of impacts, contestants from Orosháza has won many prizes at sausage making competitions.
The Orosházi Banana is a local speciality. According to the information provided by Facebbook it is a brioche made from a puff pastry dough enriched with eggs. It has a shiny, goldish-yellow, grooved surface and is slightly larger than the palm of a man's hand. It is flat and reminds one of a half-peeled banana, hence the name. It is strewn with caramelized sugar, which lends its characteristic taste to the pastry. It was created thanks to the background given by agriculture, mill industry and bakeries with tradiotions.
One of the local specialities is wheat germ pudding, that is the oldest dessert. After the process of germination of corn seeds, the seeds are ground, some flower is added and the mixture is baked in a furnace in a traditional way. During the germination the farina from the seeds is transformed into sugar, giving a pleasant sweet taste to the stuff. The result is a dessert, which is rich of minerals, protein and trace elements.
Another major ingredient of the local gastronomic culture is poultry. It is due to traditions in processing and breeding of poultry. The local food processing company, Merian, has gained fame all over Europe for its premium quality products and goose liver based products.
One of the most popular local specialities is the famous soup a la Orosháza, made from beef and a great variety of vegetables, hard boled egges, sour cream, seasoned generously. It is a very rich stew based dish, that must be tasted.
If somebody is interested in further gastronomic specialities it is worth browsing through the local food blog, running under the name Ízes Orosháza (izesoroshaza.blogspot.com). Its editor, Béla Fülöp Károlyi, is a master not only of ingredients but of the Hungarian language as well being a writer, who has already edited several books with gastronomic subject.
Pictures of local specialities