The star chef gained his knowledge and expertise at Orosháza.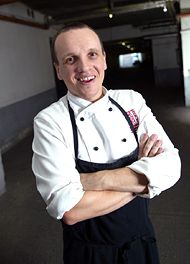 Zsolt Litauszki, one of the most famous chefs of Hungary, nowadays he has time to visit his hometown only once or twice a year but he is still applying successfully the experiences gained here.
He is the creative chef of different restaurants such as Pest-Buda, 21, Pierrot and a popular private chef. He gained his expert knowledge in Austria, but received the first impressions in his grandfather's garden, his grandmother's kitchen and a local restaurant run by his mother. The grandfather's kitchen always offered something interesting beside the usual vegetables: raspberry, gooseberry and herbs. The cuisine offered by his home presented a unique mixture of Hungarian and Slovak tastes and specialities. This was the starting point for the teenager boy to go on with his studies at the technical college at Hódmezővásárhely. Later he accepted different job offers at local hash-houses and the biggest school canteen of the town.
During these years he browsed the relevant literature and realised that he can develop only by stepping on. Thirteen years ago he found a job in the other part of the country, at Fertőrákos, at the famous local restaurant called Ráspi. Later he went in Austria, where he gained expert knowledge at eminent restaurants and hotels such as Hotel Lorünser. He also worked with Antoner Hof. His career showed a swing up, in a few years' time he became a chef. In the same time he became an enthusiast of vines. In this way it was a pleasure to accept the job offer from the owner of a Budapest wine restaurant, Maligan, to run the restaurant.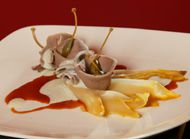 After a tough start Maligan became a sacred place for gourmets, thanks to the positive opinion of press and gastro bloggs. No wonder as Zsolt presented outstanding masterpieces of modern quisine. However, as this profession involves permanent reforms, Zsolt made a further step. Currently he is the creative chef of three restaurants owned by the Zsidai family. It means he coordinates the professional work in the restaurants Pest-Buda, 21 Hungarian Restaurant and Pierrot. Besides he is travelling all over the world, improving permanently his gastronomic knowledge.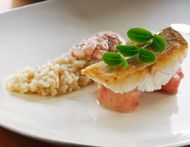 He has not forgotten his hometown, as he orders goose liver from a local company. Zsolt gladly recalls the years in the early nineties when he had fun with his friends at popular pubs and bars of the time, the trips in the area and the days spent fishing.
Although he rarely gets home, he highly recommends the town and the surrounding area to everyone. From gastronomic point of view he recommends mainly the tasteful sausage made at Békéscsaba and at Tótkomlós and the famous local goose liver. Those who arrive with other purposes won't be disappointed either as Gyopárosfürdő offers great opportunity for recreation, for active and passive relaxation.