We are sorry to inform our guests, that our 4 indoor pools of the Aquapark remain closed during 2023. The outdoor terrace pools of our Aquapark closed in September 2023, opening expected in May 2024
On a huge space of more than 6 000 m2 the Spa offers all year round enjoyment and dozens of adventure elements to visitors arriving for health reasons or pure fun, for holidays spent with friends or family.
The recently built adventure complexity of Gyopáros offers a wide choice of entertainment facilities starting from body moving attractions to pampering massages regardless of swimming knowledge, age or gender.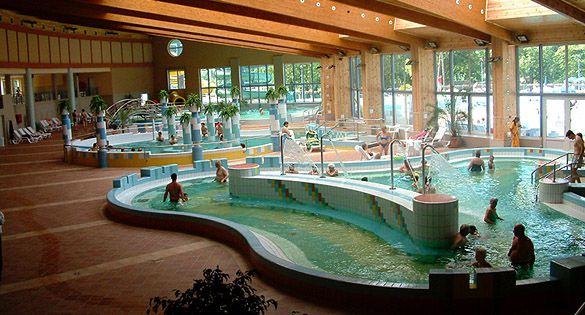 The complexity is open all year round – on top of that on some days it is open till midnight, disposes of three outdoor and four indoor spools. Lovers of slides can enjoy going down two huge spiral slides splashing in the end either in an open air pool or in an indoor pool.
The wooden ceiling and the amazing panoramic windows give the indoor area a pleasant atmosphere. Various adventure elements such as: neck shower, mushroom, lazy river rides, lying massage, geysers, water spitters, massage jets and waterfalls make recreation and relaxation even more enjoyable.
The adventure bath situated on a spacious area offers high quality services for visitors seeking not only recovery, but active and passive relaxation or entertainment.
Pictures of Adventure pools