Come and bathe with us in August at Orosháza-Gyopárosfürdő.
Our prices remain the same: we are awaiting you with 2021 prices in our 10-hectare park with 8 outdoor and 2 indoor pools, a giant slide and sports field. Of course, our Sauna park also continues to operate, so you can enjoy a sauna in our 10-cabin sauna park in the summer or take part in one of our weekend sauna sessions.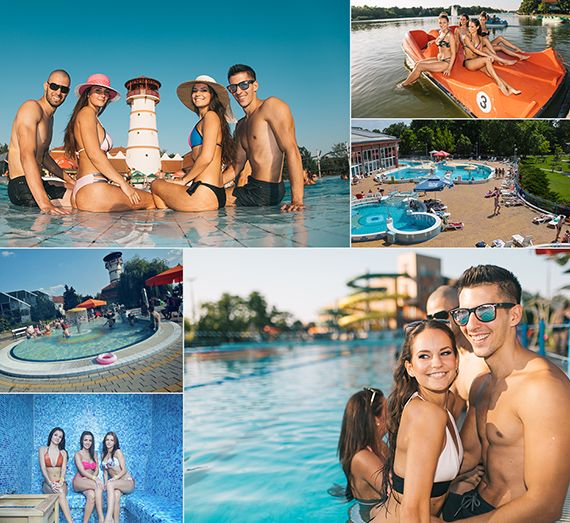 Last year's prices
We did not increase the price in 2022, so the single entrance to the Adventure Terrace, Park Bath and Spa will cost HUF 2,600 for adults, HUF 2,100 for students and pensioners, and HUF 1,500 for children aged 4-14. Admission is free for under 4 years. Admission to the Sauna Park is at an additional cost (an additional HUF 1,300 per person). You can find the complete price list of our spa (family tickets, season tickets, swimming tickets, etc.) here .
8 outdoor pools, 2,200 sqm water surface
In the swimming pool part of our spa, a deep-water, 50-meter sports pool awaits those wishing to swim and play sports, in the immediate vicinity of which we also find a 25-meter training pool.
A total of 3 additional pools and an outdoor giant slide await our dear guests on the terrace of our adventure pool. Our sliding pool also has a drift corridor, and there is also a relaxation pool and a shallow children's pool. In addition, our 3 additional pools – a tower pool, an outdoor spa pool and a children's pool next to the tower pool – are open.
Night bathing on Saturdays!
Night bathing is available on Saturday evenings, when the Aquapark's outdoor pools (Adventure Terrace) and Sauna Park are open until midnight (on some Saturdays additional pools can be open). In addition, you do not have to buy a separate evening ticket with your day ticket, you can enjoy the redeemed service until Saturday midnight (additional ticket to the Sauna Park is necessary).
Further options
Free outdoor sports courts are available at the spa. Boats and pedal boats can also be rented.
There are several restaurants and buffets available, so you won't have to worry about food or drink. Massages and other wellness programs can also be booked.
AQUPARK INDOOR POOL STILL CLOSED
For technical reasons, three of the four indoor pools in our aquapark (see 8-9, 11 on the map) remain closed in 2022. With the exception of these pools, all the services of our spa are available as shown on the map below.
Transport, parking in Orosháza and Gyopárosfürdő
From July 25 to September 4, 2022, the Dotto train runs daily, with which we can comfortably travel between the center of Orosháza and Gyopárosfürdő: more information and schedule. The good news for those arriving by car is that parking is free almost everywhere in Orosháza, only in the immediate vicinity of the spa, you have to pay a parking fee for a small section – more information about parking.