Map of Gyopárosfürdő (valid from 1 June 2021)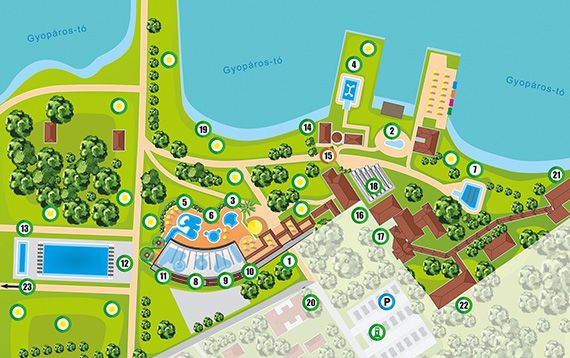 Legend
1. Main entrance
2. Children's pool I. (OPEN)
3. Children's pool II. (OPEN)
4. Tower pool (OPEN)
5. Outdoor slide pool (pool open, slide closed until 18 June)
6. Outdoor hot tub (open, downtime: 14-18 June)
7. Medicinal swimming pool (OPEN)
8. Indoor column pool (opening: 21/06/2021)
9. Indoor sitting pool (opening: 21/06/2021)
10. Indoor children's pool (opening: 21/06/2021)
11. Indoor slide pool (opening: 21/06/2021)
12. 50 meter sports pool (OPEN)
13. Training pool (OPEN)
14. Dining Center (continuous opening)
15. Lookout tower (can be visited on special request)
16. Health Care Center (partially open)
17. Medicine Center (partially opening: 18/05/2021)
18. Indoor thermal spa (OPEN)
19. Boat rental (OPEN)
20. Fehér Hattyú / White Swan Restaurant & Pension (OPEN)
21. Corvus Hotel (OPEN)
22. Napsugár / Sunlight Hotel
(OPEN)
23. Thermal Park Camping (OPEN)
P – paid parking with e-car charging (free parking 260 meters away)
Your trip to Gyopárosfürdő by car, bus or train
Orosháza is about 190 km south of Budapest. After approx. 110 km, you have to leave the E60 / M5 motorway at exit 114 near Kiskunfélegyháza before driving another 80 km through the Great Hungarian Plain "Alföld" (Csongrád-Szentes-Orosháza). In addition, Orosháza is easily accessible from the regional centers Szeged (56 km) or Békéscsaba (33 km), but the Romanian border is not far either, the city of Arad / Oradea is only approx. 75 km away.
You can reach the city by train from different directions, for example through Szeged, Békéscsaba or Mezőtúr. Due to the good road connection, Orosháza is connected to several cities via a direct bus connection (e.g. Budapest, Baja, Pécs, Dunaújváros, Debrecen, Kecskemét).
Approaching Gyopárosfürdő from Orosháza
Our spa, located in the Gyopárosfürdő district of Orosháza, is 3.8 km away from the city center, so if no car or bicycle is available, we must rely on local transport. In summer, in our opinion, the best choice is the Dotto small train, which runs every day in the summer of 2020, departing every 2 hours. In addition, the spa can be reached by local buses. Buses of the line 2 or 2A depart approximately every 2 hours from the central bus station of Orosháza. Train transport would be a logical choice, as the stop of the railway line 147 (Orosháza-Szentes-Kiskunfélegyháza) is only 200 meters from the entrance of the spa, but from the summer of 2020 there is only one train running on the line, starting at 16:50 from Orosháza main station – see Elvira Railway Timetable Planner .