Milk processing have been known and practised by our ancestors, the early settlers kept dairy animals, mainly horses, cattle, goats and buffaloes.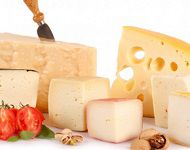 According to the historical records cheese manufacturing in modern sense started to develop in Hungary quite late, although our ancestors knew and consumed both cheese and butter. Sámuel Tessedik founded the first diary farm at Keszthely, at the end of the eighteenth century. In the beginning cheese was produced by Swiss masters.
The introduction of pasteurized milk in the process of cheese production represented a milestone in the technology. As a result of this in 1904 the application and production of cheese cultures started and spread. However, mass production resulted in lower quality. In this way there is a growing demand for returning to the roots in gastronomy, as well as in cheese consumption: home-made cheese is becoming more and more popular.
As a response to the increasing demand, the owner Bertáné Székely Margit opened her cheese manufacturing workshop at Orosháza, which is known not only for the high quality of the diary products, but also for the possibility to get an insight in the manufacturing process of cheese manufacturing. What is more, braver visitors can try cheese making on their own.
The owner expects mainly families and small groups of visitors as the maximum number of guests that can visit the workshop is 5. Visitors are welcome at week-ends, holidays and workdays in the afternoon hours. There is also the possibility to taste the products as well as to purchase the preferred type of curd or cheese.
For previous appointments please call the following phone number: +36 30 830-7371