Mezőhegyes is a place o visit for those who are interested in horses and horse riding.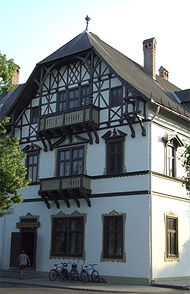 he town situated in Békés county, 30 kilometers south of Orosháza, close to the Hungarian-Romanian border. By car, it is a half an hour drive. Mezőhegyes is a railway crosspoint, easily accessible by train.
The town with a population of about 5 000 is famous for its Nonius breeds of horses, which were bred here. The place is home of the Hungarian State Stud, offering a wide range of things to see for arriving tourists.
The Skanzen open-air ethnographic museum from Szentendre has a new entrance building, which is the reconstruction of the Mezőhegyes railway station based on original plans.
The building was chosen as a model for this new building due to its architectural beauty, so it is worth seeing it in original. It is also interesting to see the remaining relics of the pheasants' life in the area.
Pictures of Mezőhegyes
Mezőhegyes on map