Although most cyclists prefer the hills and mountains, hereby we would like to promote cycling on flat ground.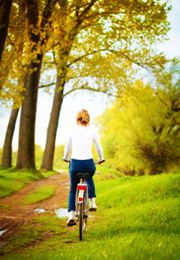 The first advantage of course is the fact that you never have to go up or down the hills. You can always see clearly the church or water tower of the next village. And last but not least unlike mountain region here you can't get ticks.
Visitors looking for extreme challenges can surely rely on the local wind, you can always cycle against it, do not even dream of leading-wind. According to the local saying you will always and in all directions cycle against the wind.
Let's come to the point: this page offers routes for visitors who wish to cover short distances.
Kardoskút-Pusztaközpont, White Lake: we highly recommend this route of 30 kilomteres to anybody, inependent of physical fitnes and experience. The route leads to White Lake, which is a nature conservation area, passing through Kardoskút village. The geographical, ornithological and biological values of the lake and its surroundings make it a protected territory. Tourists can visit the stocks of Hungarian grey cattle, racka and cigaja sheep.
Fit cyclists can go further and return to Orosháza across Székkutas. The last ten kilometers have to be done on main road, so this rout is advised only for experienced cyclists, who are accustomed to heavy traffic.
Pusztaföldvár, Tatársánc: it is a 30 kilometer route with final destination at Tatársánc, situated south-east of the village. People living at the end of the bronze age, around the centuries 8-5 BC, built the dyke Nagytatársánc for safety reasons.
Károlyi Castle in Nagymágocs: is also a popular destination for bicycle trips as visitors can easily spend a whole day here. The castle is situated at a distance of 12 km from Orosháza. It was built between 1896 and 1897 in an eclectican neobaroque style. The castle and its buildings were constructed based upon the plans of Miklós Ybl. The 40 hectare English garden and the building are preserved in their original form. Nowadays the building is operating as an old people's home.