Hódmezővásárhely is situated in the South Eastern part of the Hungary, in the region of the Great Plain, Csongrád county.
The distance from from Orosháza is 30 km, that can be covered in half an hour by car, using the main road nr: 47. It is the second largest administrative area of the country.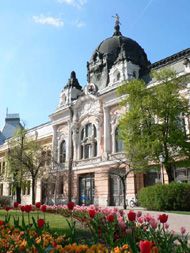 Hódmezővásárhely, a large agricultural town, is a significant economical, cultural and art centre of the region. The cultural roots and traditions of the town are very rich. The tourists arriving in the town will be mainly attracted by the wide range of amasing buildings of Hódemzővásárhely.
Among the historic buildings has to be mentioned the synagogue, which is one of the most outstanding synagogues in all Hungary. In our present days the Synagogue is dedicated to the memory of the Jewish population, who became victims of the Holocaust from the whole south Plain region. The City Hall was built according to the plans of the famous architect Mikolós Ybl. Another major sight is the Károlyi House, while the Agricultural Museum presents us the agricultural traditions of the place.
The Memory Point Museum takes us back in time.The unique exhibition presents by interactive means the life of people during the socialist era and the soviet occupation. As for local restaurants: they provide traditional Hungarian cuisine, satisfying the highest demands of gourmets.
Pictures of Hódmezővásárhely
Hódmezővásárhely on map