Come to us between June 13 and 30, 2020 for the newly renovated Gyopárosi Beach: we are waiting for you with a 10-hectare park, with 8 water circulating pools, a giant slide and sports fields! In addition, in our opening campaign, the entrance fee will cost only 999 HUF* until the end of June, and admission is free for children under 6 years of age. From 1 July 2020, all the services of our spa will be available again , however, the 999, – The HUF discount offer is no longer valid.
Yyou can enjoy the nearly 1,700 m2 water surface of our 5 water-circulating pools all day for HUF 999, including the 50-meter sports pool, the giant slide drift pool or the shallow water children's pool. On Saturday, June 27th, our 3 more outdoor pools will open: the Tower pool, the Outdoor thermap pool and the children's pool numbered 2, 4 and 7 on the map below.
But our outdoor sports fields and buffets, restaurants are also waiting for you, and you can even go boating or pedal boating on Lake Gyopárosi!
Gyopárosfürdő has unique features, as our spa is located in a 10-hectare, green park, so you can swim comfortably and safely, keeping a sufficient distance from others.
8 outdoor pools
In the swimming pool part of our spa, a deep-water, 50-meter sports pool awaits those wishing to swim and play sports, in the immediate vicinity of which we can also find a 25-meter training pool.
A total of 3 additional pools and an outdoor giant slide await our dear guests on the terrace of our adventure pool. Our sliding pool also has a drift corridor, and there is also a relaxation pool and a shallow water children's pool for our guests.
On Saturday, June 27, we will open 3 more pools (Tower pool, Outdoor thermal pool and Children's pool next to the Tower pool), so the number of our open pools will increase to eight.
Further options
Free outdoor sports courts are available at the spa. In addition, boats and pedal boats can be rented for half an hour for 700 HUF.
There are several restaurants and buffets in the spa area, so you won't have to worry about food or drink. You can also book a limited number of massages.
Useful information for the period June 13-30, 2020
We provide dressing facilities in the outdoor changing rooms and on the ground floor changing room, taking into account the safety regulations. Parking is free everywhere until 30/06/2020, after which you can find out about the parking policy on this page.
Opening hours (June 13-30, 2020)
Our beach is open all days of the week from 8:00 to 20:00 in the evening, however, the pools on the adventure terrace and the giant slide close at 18:00 on weekdays.
Map: what's open and what's not? (June 13-30, 2020)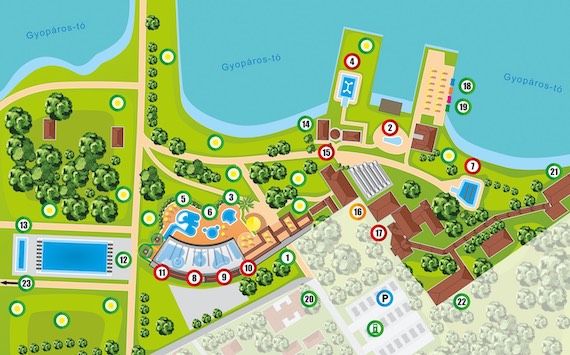 The indoor pools and services of our spa are not open due to the regulations related to the COVID-19 epidemic (eg Indoor Adventure Pools, Sauna Park, Spa). The Medical Center is also closed, and only a limited number of massages are available at the Health Center, by prior arrangement. Of our outdoor pools, the flowthrough pools – marked with numbers 2, 4 and 7 in the picture – are not in operation, only our 5 circulating, disinfected pools are available. But even in these pools, we were required to turn off all elements working on compressed air. Bathing in Lake Gyopáros is still not allowed, but boat and pedal boat rental is open.
Legend (June 13-30, 2020)
1. Main entrance
2. Children's pool I.
3. Children's pool II
4. Tower pool
5. Outdoor slide pool
6. Outdoor hot tub
7. Outdoor thermal pool
8. Indoor column pool (open 1 Juli)
9. Indoor sitting pool (open 1 Juli)
10. Indoor children's pool (open 1 Juli)
11. Indoor slide pool (cloopen 1 Julied)
12. 50 meter sports pool
13. Tanmedence
14. Dining Center
15. Tower lookout tower (closed)
16. Health Care Center
17. Medicine Center (open 1 Juli)
18. Pedal boat rental
19. Boat rental
20. Fehér Hattyú / White Swan Restaurant & Pension
21. Corvus Hotel
22. Napsugár / Sunlight Hotel
23. Thermal Park Camping
P – paid parking (free until the end of June 2020)
From July 1, 2020, all the services of our spa will be available again
IMPORTANT: Epidemic Precautions (June 13-30, 2020)
As with all other baths in Hungary, we are obliged to provide 4 m2 of water per guest. This allows a maximum of 418 people to stay in our pools at one time.
According to the regulations, we are also obliged to provide at least 16 m2 of free room per guest, so that our spa area can accommodate up to 1,100 people at a time.
We are obliged to adhere these regulations, so we would like to draw the attention of our dear guests to, if possible, choose less busy weekdays instead of weekends for bathing.
In addition, to protect the health of our dear guests and colleagues, we have introduced the following precautions:
Guests are required to maintain a safety distance of 1.5 m from each other at the entrances and in the spa area.
Our guests from the hotels can use our services through the main entrance!
The spa strives for cashless solutions, so we recommend using credit card payment.
We will hand out disinfection stations at access points and water blocks and pool areas, which we ask you to use.
A thorough shower is mandatory before and after using the pool.
Slippers are mandatory at the spa.
Catering facilities and shops in the spa area are in compliance with the law.
Only circulating pools operate.
Take a shower with soapy water before and after bathing and using the pool.
Always use a foot wash!
Children are not allowed in adult pools!
Pool load capacity is mandatory!
In the case of the outdoor edge pool, the operation of the slide is ensured. Marking stripes are placed for waiting. Handrails and handrails are disinfected every 30 minutes with virucid.
We do not operate other pool elements.
Please follow the instructions of the staff!
According to epidemiological regulations, our spa, indoor adventure pool, sauna park and medical department do NOT operate. We do not operate neither the outdoor tower pool, nor a children's pool next to the tower pool. According to the regulations, we were also forced to turn off some outdoor water experience elements.
Can I get infected with coronavirus by bathing water?
According to the National Center for Public Health, COVID-19 coronavirus is primarily a respiratory virus that, according to information from international organizations, spreads primarily directly from person to person through droplet infection. The new coronavirus is an enveloped virus. If this envelope is damaged, the virus loses its infectivity. During the chlorination of water, elemental oxygen is formed, which has an oxidizing effect and strongly damages e.g. the new coronavirus envelope. Coronaviruses have been shown to be inactivated almost instantaneously in the presence of 0.2-0.5 mg / l free chlorine, so the presence of viable viruses in properly operated pools is not expected. The amount of chlorine used in the chlorination of circulating swimming pools is therefore sufficient to kill any coronavirus that may enter the water. Accordingly, only our water-circulating outdoor pools open in our spa, our other outdoor pools (eg tower pool and all our indoor pools) KEEP CLOSED.
* Other discounts (eg Orosháza and regional discounts) do not apply to the HUF 999 discounted ticket.
Thank you for your understanding and we look forward to seeing you in Gyopáros!