Starting from the 1st July 2020 we await you again in Gyopárosfürdő with the full range of our services, including our newly renovated Adventure Pools, Thermal Spa and Sauna Park.
Gyopárosfürdő has unique features, as our spa is located in a 10-hectare, green park, so if you want, you can still swim comfortably and safely, keeping a sufficient distance from others, in one of our 8 outdoor pools, but you can also use the indoor pools of our Adventure Pools and Thermal Spa, or our Sauna Park.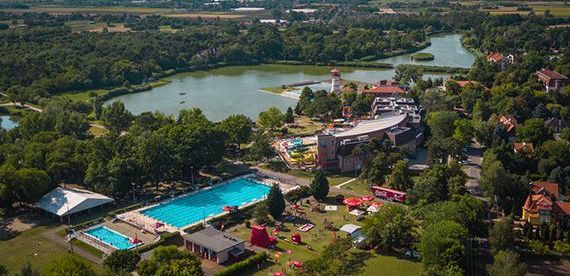 Free outdoor sports courts are available at the spa. You can also go boating or pedal boating on Lake Gyopáros.
Price of tickets from 1 July, 2020
From July 1, our standard HUF 999 discount ticket will be discontinued, in return the range of available services will be significantly expanded. With our "basic" ticket – which costs HUF 2,100 for students and pensioners, HUF 2,300 for adults – you can use our Park and Outdoor Pools and our Thermal Spa, ie a total of 5 outdoor swimming pool (marked 2, 4, 7, 12 and 13 on the map below) and our indoor spa pool, as well as, of course, our park and outdoor sports fields.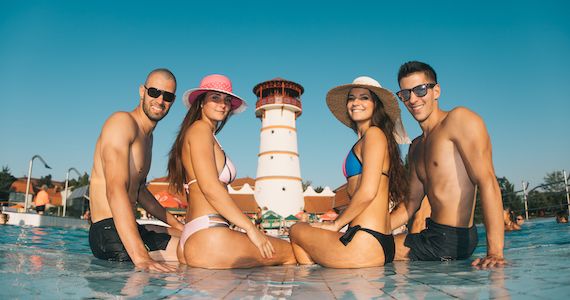 With the Adventure Pools entrance, in addition to the Park pools and Thermal Spa, you can also use the services of our Adventure Pool, so the Adventure Terrace with 3 outdoor pools, and the 4 indoor pools of the Adventure Bath. The fee for the Adventure Pools day ticket is HUF 2,600 for students and pensioners, HUF 3,500 for adults. If you also want to visit the Sauna Park , it costs additional HUF 500-1,700, depending on your ticket type and discount.
In addition, we offer you additional discounts, such as our family ticket, discounted passes, and discounted tickets after 5 pm – you can find detailed information about these in our price list.
Night bathing again!
Night adventure bathing is available again on Saturday evenings, when the Adventure Pools and the Sauna Park are open until midnight. In addition, you do not have to buy a separate evening ticket with the Adventure Pools day ticket changed during the day, you can enjoy the redeemed service until midnight on Saturday.
Our outdoor pools
A total of 5 outdoor pools can be used with the basic entrance to the Park pools and the Thermal Spa, which are marked with numbers 2, 4, 7, 12 and 13 on the map below. These include a 50-meter deep-water sports pool (12), a shallower, cold-water training pool (13), a warmer-water show pool (4), an outdoor children's pool (2) and a thermal pool (7).
With the Adventure Pools entrance you can access 3 more outdoor pools on the terrace of our Adventure Pools: an adventure pool with a slide and aisle (5), a massage pool (6) and an additional children's pool (3).
Our indoor pools
You can already visit our indoor Thermal Pool with our basic entrance ticket (16), and with the Adventure Pools entrance you can access 4 more adventure pools and additional indoor slide (8-11).
Map of Gyopárosfürdő (valid from 1 July 2020)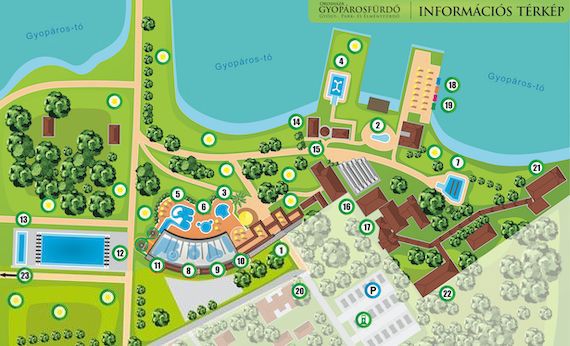 Legend
1. Main entrance
2. Children's pool I.
3. Children's pool II
4. Tower pool
5. Outdoor slide pool
6. Outdoor hot tub
7. Medicinal swimming pool
8. Indoor column pool
9. Indoor sitting pool
10. Indoor children's pool
11. Indoor slide pool
12. 50 meter sports pool
13. Shallow pool
14. Dining Center
15. Lookout tower
16. Health Care Center
17. Medicine Center
18. Pedal boat rental
19. Boat rental
20. Fehér Hattyú / White Swan Restaurant & Pension
21. Corvus Hotel
22. Napsugár Hotel
23. Thermal Park Camping
P – paid parking (free parking 260 meters away)