Orosháza-Gyopárosfürdő transitioned to the autumn-winter season of 2023 so are outdoor activities are closed until May 2024.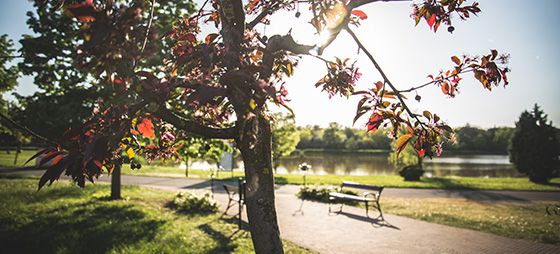 Our park and outdoor pools are closed
With the exception of the year-round outdoor and indoor spa pools, all our outdoor pools are closed from 18. September 2023.
Starting from 04.09.2023, the park pools pools, including the tower pool and the outdoor children's pool are not in operation. The outdoor and indoor hot water thermal spa pools are open all year round.
The swimming pool and teaching pool closed on 18 September 2023
Starting from 04.09.2023, the pools on the outdoor terrace of the Aquapark are not in operation.
Starting from 04.09.2023, the Saunapark will be closed on weekdays, instead 1 large Finnish sauna cabin in the medical department will be in operation. On Saturdays and Sundays, the Sauna Park operates according to the previous opening hours. (Saturday: 10:00-24:00, Sunday and public holidays: 10:00-20:00)
From 04.09.2023, the spa's main entrance will be closed, entrance at the medical cash desk
The closing of Thermal Park Camping depends on the weather. From 4 Septeber 2023, the reception of the Thermal Park Camping is closed, payments and administration are at the spa's main cash desk.
You can find more information about the current opening hours our spa opening hours page.
Map of Gyopárosfürdő (valid from 18.09.2023)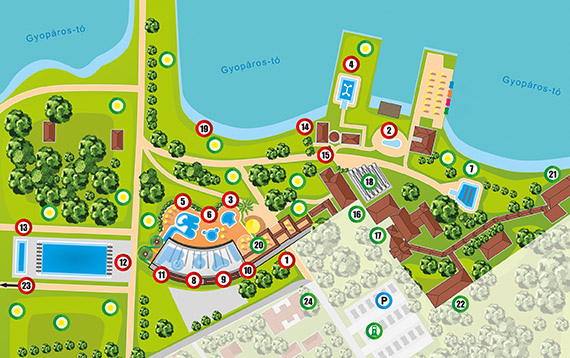 Legend
1. Main entrance (closed from 4.9.2023, entry through the entrance of the Health Care and Medicine Centers – see 16-17. on the map)
2. Children's pool I. (closed until May 2024)
3. Children's pool II. (closed until May 2024)
4. Tower pool (closed until May 2024)
5. Outdoor slide pool (closed until May 2024)
6. Outdoor hot tub (closed until May 2024)
7. Medicinal swimming pool (OPEN all year)
8. Indoor column pool (temporarily closed)
9. Indoor sitting pool (temporarily closed)
10. Indoor children's pool (temporarily closed)
11. Indoor slide pool (temporarily closed)
12. 50 meter sports pool (closed until May 2024)
13. Training pool (closed until May 2024)
14. Park dining center (closed until May 2024)
15. Lookout tower (in summer visit on special request)
16. Health Care Center (open all year)
17. Medicine Center (open all year)
18. Indoor thermal spa (open all year)
19. Boat rental (closed until May 2024)
20. Saunapark (open on weekends)
21. Corvus Hotel (open)
22. Napsugár / Sunlight Hotel
23. Thermal Park Camping (closed until May 2024)
24. Fehér Hattyú / White Swan Restaurant & Pension (open)
P – paid parking with e-car charging (free parking 260 meters away)