There were only a few days left. The last roof beam was to be inserted, the last indoor pools were to be opened, the whole Gyopáros spa was expected to open and finally we could forget about COVID and the past one and a half year. And then came the cold shower. A hidden construction problem, invisible under the metal cover. Serious deterioration. Almost 20 year old construction, which means complete roof renovation. It is not a question, the aquapark remains closed for the safety of our guests. It can not be opened. It can not be opened at least till the end of summer…
We are sorry to inform our guests that this summer the four indoor pools of the aquapark can not be opened. Taking into account the closed pools, entrance fees will be significantly reduced starting from 18th June. The 50% discount for local citizens will be available even for the reduced prices.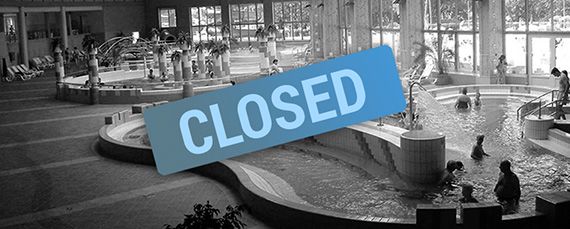 Apart from the indoor pools of the aquapark ALL OTHER SERVICES will be available at Gyopárosfürdő, so all the 8 outdoor pools with a total 2.200 m2 water surface, the spiral slide, the indoor thermal pool and the services of the Sauna Park, as well as the popular sauna seanses will be available again.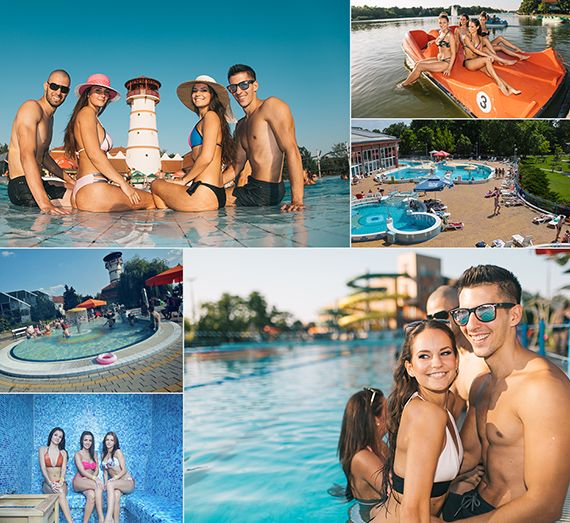 However, the indoor pools of the aquapark can not be used until the end of summer. During the forced closing time due tot he COVID epidemic the renovation of the spa was started. One of the most important part of this work was the partial renovation of the wooden roof structure of the aquapark. The work was scheduled to be completed this week, but the final phase of the renovation has revealed such unforeseen construction problems, that make the safe opening impossible and require further investment. We have already consulted with the town management about the inevitable renovation and we were promised to get as much support as possible to fulfill our plan.
Thank you for your patience and understanding!
The Team of Orosháza-Gyopárosfürdő
Our spa can be visited without any restriction for our foreign guests. You DO NOT NO NEED an immunization certificate or any other COVID-related document to enter our spa.
Map of Gyopárosfürdő: valid 1 September 2021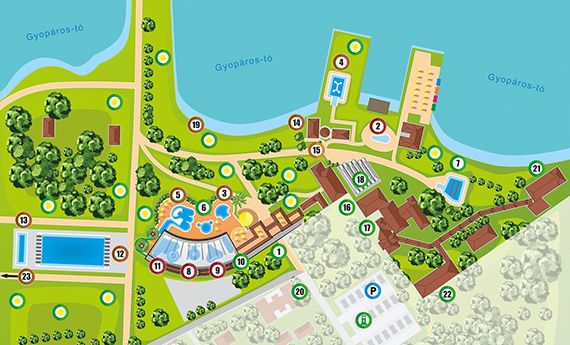 Legend
1. Main entrance
2. Children's pool I. (closed from 1 September)
3. Children's pool II. (last open on 12 September)
4. Tower pool (last open on 12 September)
5. Outdoor slide pool (last open on 12 September)
6. Outdoor hot tub (OPEN all year)
7. Medicinal swimming pool (OPEN all year)
8. Indoor column pool (temporarily closed)
9. Indoor sitting pool (temporarily closed)
10. Indoor children's pool (OPEN all year)
11. Indoor slide pool (temporarily closed)
12. 50 meter sports pool (last open on 20 September)
13. Training pool (last open on 20 September)
14. Dining Center (last open on 12 September)
15. Lookout tower (can be visited on special request)
16. Health Care Center (OPEN)
17. Medicine Center (OPEN)
18. Indoor thermal spa (OPEN all year)
19. Boat rental (last open on 12 September)
20. Fehér Hattyú / White Swan Restaurant & Pension (OPEN)
21. Corvus Hotel (OPEN)
22. Napsugár / Sunlight Hotel (OPEN)
23. Thermal Park Camping (OPEN)
P – paid parking with e-car charging (free parking 260 meters away)