VAŽNO: Prema važećim zakonskim propisima, trenutno (27. maja 2021. godine)možemo da prihvatimo samo goste mađarskog, rumunskog, srpskog, slovačkog i moldavskog državljanstva, ali i samo one koji pri ulasku mogu da prilože VALJANU ZAŠTITU, ličnu kartu i adresu (18 godina ili više) – bez obzira da li žele da uđu u spoljni ili unutrašnji deo naše banje.
From May 15 to June 21, 2021, we will be constantly opening various units of our spa, according to the schedule shown below, and we are waiting for our dear guests with discounted prices until the full opening.
Nove cene od 11. juna 2021.
Uveli smo nove cene u našoj banji od 11. juna 2021. godine, detaljan cenovnik možete naći na našoj stranici sa cenama. Stanovnici sa stalnom adresom u Oroshazi mogu ponovo da iskoriste popust od 50%, nažalost "regionalni popust" više nije moguće koristiti od 2021. godine.
2021. Spring-summer reopening schedule
According to our plans, the different units of our spa will open according to the following schedule.
We would like to inform our dear visitors that the massage pool on the Adventure Pools outdoor terrace will be closed from 14 to 18 June 2021, and the giant slide leading to the outdoor slide pool will only be available from 18 June again. The outdoor slide pool itself can be used during this period.
Saturday, May 15, 2021
– Saunapark
– Indoor spa (map nr. 18.)
– Outdoor polygonal pool (map nr. 7.)
– Paid wellness massages
– Central dressing room in the main building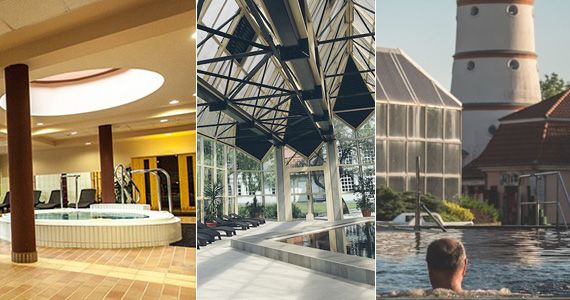 Tuesday, May 18, 2021
– Medicine (partial opening, please inquire)
Friday, May 21, 2021
– Adventure pool outdoor terrace (map nr. 3, 5, 6.)
– Adventure pool green slide (outdoor)
– Boat rental (map nr. 19.)
– Termál Park Camping (map nr. 23.)
– Changing rooms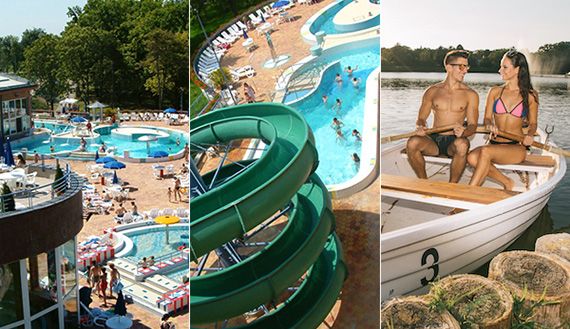 Tuesday, June 1, 2021
– 50-meter sports pool (map nr. 12.)
– Training pool (map nr. 13.)
– Swimming pool water block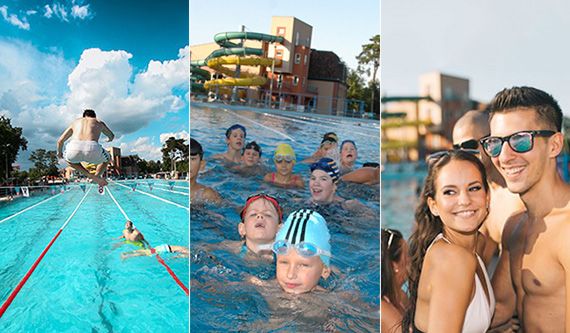 Friday, June 11, 2021
– Tower pool (map nr. 4.)
– Park bath children's pool (map nr. 2.)
– Sauna seances
– Forest Chalet Camping
Monday, June 21, 2021 – FULL OPENING
– Indoor Adventure Pools (map nr. 8-11.) + yellow, indoor slide.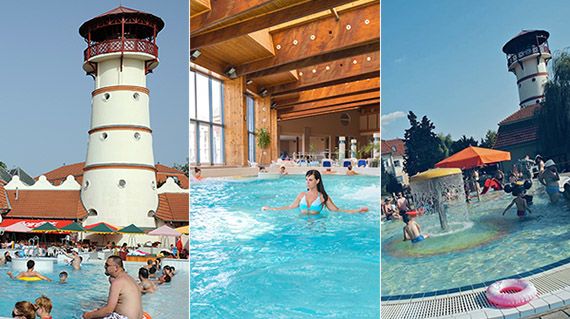 We will keep you informed about the exact dates , detailed rules and promotions on our website.
Map of Gyopárosfürdő (2021)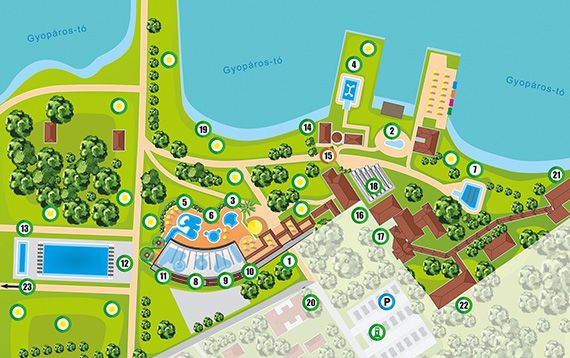 Legend
1. Main entrance
2. Children's pool I. (OPEN)
3. Children's pool II. (OPEN)
4. Tower pool (OPEN)
5. Outdoor slide pool (pool open, slide closed until 18 June)
6. Outdoor hot tub (open, downtime: 14-18 June)
7. Medicinal swimming pool (OPEN)
8. Indoor column pool (opening: 21/06/2021)
9. Indoor sitting pool (opening: 21/06/2021)
10. Indoor children's pool (opening: 21/06/2021)
11. Indoor slide pool (opening: 21/06/2021)
12. 50 meter sports pool (OPEN)
13. Training pool (OPEN)
14. Dining Center (continuous opening)
15. Lookout tower (can be visited on special request)
16. Health Care Center (partially open)
17. Medicine Center (partially opening: 18/05/2021)
18. Indoor thermal spa (OPEN)
19. Boat rental (OPEN)
20. Fehér Hattyú / White Swan Restaurant & Pension (OPEN)
21. Corvus Hotel (OPEN)
22. Napsugár / Sunlight Hotel
(OPEN)
23. Thermal Park Camping (OPEN)
P – paid parking with e-car charging (free parking 260 meters away)
Since there are still open questions about reopening the spas, it is strongly recommended that you visit our website or our spa's Facebook page before you leave – in the event of a change, we will update these interfaces within hours. But you can also call us at +36 68/512 260.