Is your house too small? Can't stand the mess? Afraid of smudges on the carpets, walls and furniture? Organize a birthday party for your kids at the playroom of the spa complex at Gyopáros!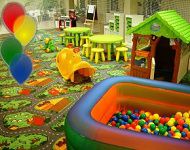 This service of the spa is available for birthday parties on Friday afternoons, Saturday and Sunday mornings. Apart from basic services, such as place and expert kindergarten teacher, we offer further programs to choose from.
Our own kindergarten teacher will prepare playful and entertaining games for children. She can also do glitter tattoos and face painting. Furthermore, at your request we provide balloon twister clown, face painting or glitter tattoos in order to make the event more fun.
The arts and crafts classes held by Zsuzsanna Trnkóczi can also be an unforgettable experience for kids. The classes include activities like: making husk dolls, bead weaving, baking honey cakes or even making own phone cases.
Do not forget: basic services are available with entrance tickets, but for further services additional fees are charged.