Szeged is the perfect destination for a one or two day trip for visitors arriving at Orosháza.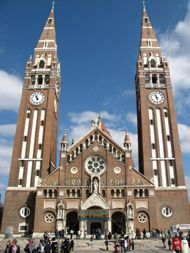 Szeged is a city of 170,000 inhabitants, located in Csongrád county.
Taking the main road nr. 47 it is an hour's drive south of Orosháza, but it is easily accessible by regular train service. Due to this short distance Szeged is a convenient programme all year round among the tourists arriving to our town.
Though the adventure bath of the town offers perfect relaxation, visitors arriving from Gyopáros will search for the top attractions and sights at Szeged: Dom Square, Synagouge and the Water Tower built in 1902. These are sights you will never forget. As for cultural programmes: the Szeged Open-Air Festival is the largest 'open-air theatre' event in the country. Not to mention the National Theatre and the Youth Days of Szeged attraction thousands of visitors every year.
For visitors searching family programmes, Szeged Wildlife Park is the best solution. It is more like a wildlife park. Here you can see rare species not far from the centre of Szeged.
Eating fish soup is one of the compulsory programmes in Szeged. The dessert is supported by one of the most traditional confectioneries in Hungary, the famous Virág confectionary shop.
If you have some energy left, you can visit Ópusztaszer National Historical Memorial Park, situated 30 km from Szeged. It is a museum and exhibition area that commemorates the Hungarian Conquest and settlement of the Magyar tribes in the Carpathian Basin. It allows visitors to explore the history of Hungary as well as the culture and life-style of people living on the Southern Great Plain of Hungary.
Pictures of Szeged
Szeged on map