Our camp named Erdei Faház Kemping, situated by Lake Gyopáros, can be an ideal place for summer camps organized for primary or secondary school students, youth clubs or associations.
Arguments in favour of this solution include: quiet location, wide choice of programmes, pocket friendly prices.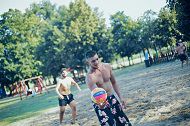 Our camp called Erdei Faház Kemping is situated in the wood by Lake Gyopáros. We can offer accommodation for 60 guests altogether in our 4 wooden houses with 5 beds (with kitchenette and bathroom), 1 wooden house with 4 beds (with kitchenette and toilette), 3 brick houses with 8-8 rooms for 4 guests (access to common kitchen and bathroom). Parking within the camp site is free. The camp site is equipped with place for outdoor cooking or barbecue, thus insuring outdoor programmes for the guests.
Camp site guests get -50% off the ticket prices to the spa, accoring to the nights spent at our camp. Apart from spending the day in the spa complex the town itself and the surrounding area offers a wide choice of programmes. Be it cultural or sport events, entertainment or playful studying a summer camp organized at Gyopáros is an ideal solution.
Pictures