The Adventure Park will be closed until spring 2020.
At a distance of 800 metres from Gyopáros spa with outdoor pools, aquapark and thermal pools, situated in a 50-hectare-park, right next to Alföld Gyöngye Hotel , the latest attraction of Orosháza-Gyopárosfürdő, constructed in 2014, Alföld Gyöngye Adventure Park is awating its visitors arriving with families, friends or colleagues.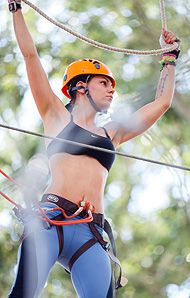 The main attraction of the Adventure Park is a continuous rope course with various climbing and hanging obstacles of ropes and cables, as well as zip lines. The longest slide is 50 metre long.
Outside the adventure park's main course there two separate obstacles are set up. One of them is a climbing wall, where visitors have to climb up on a rope ladder. The other challange is to build a crate tower with the help of an instructor, who supervises the safety of guests while climbing.
Perfect recreation for adults, children, families, groups of students or friends or companies!
Further information and contact
Further information, reservations: +36/68-414-422
Map
Picture gallery
Adventure park videos