Apart from thermal pools and aquapark at Gyopárosfürdő Orosháza offers its visitors Christmas fair, Bethlem, free skate ring, programmes on each Sunday and concerts on 10 December with the band Kon-Tiki, on 17 December with the singer Janicsák Veca.
Christmas Fair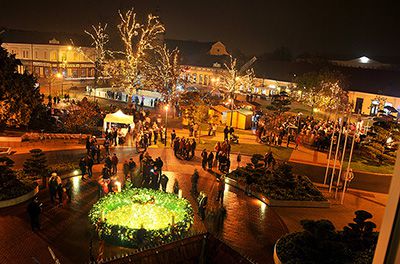 Starting from 03 to 23 December 2017 visitors will be welcome with a Christmas village built in the Main Square of Orosháza. Mulled vine, chimney cake with cinnamon and pleasant atmosphere will be tempting the visitors on each day of the week. Children's entertainment will be guaranteed by an Advent Calendar, a huge Christmas tale book and a life-sized Nativity Scene.
Skate ring
A popular programme of the Christmas fair is the artificial ice rink with its total surface of 210 square metres. Visitors can benefit from free entrance to the rink as well as free skate rental. After the closure of the Christmas fair the ice rink will still be open to the public from 27 December 2017 to 7 January 2018.
Waiting for the winter holidays together for 10 years now – Advent with a huge wreath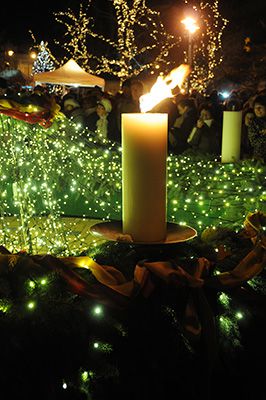 The decision of preparing a huge wreath for Orosháza was taken at a gathering with friends. To our greatest joy the idea was supported by locals. Thank to this joined effort on 30 November 2008 the first candle was lit.
That year the "home" of the wreath was the so-called Árpád garden, but as the years went by more and more people visited the Sunday programmes, so this place proved to be too small. The wreath was placed at the new Main Square, which is an ideal place for the Advent programmes.
Over the past decade a lot of things changed, we ourselves members of the club named Oros-haza Baráti Kör became more experienced. However, one thing is unchaged: starting from November the everyday topic we discuss is the tasks members will take in the wreath preparing. Some of us order the hay, others provide the candles, while others deal with the colourful balls. On top of that there is the treat for our guests.
Over the past years the town wreath had different images. We do hope the tenth decoration will be positively appreciated by the locals, as this is our present to you in order to make the holidays brighter and the relationship tighter among the locals. Our present this year will be hot tea served from mugs that we prepared as well as the mulled vine served by the members of the local Rotary Club. Do come and spend with us the Advent at Orosháza Main Square!
Programmes of lighting the Advent candles
Location: in front of the local Mayor's Office, at the town's Advent wreath
10 December 2017. 16:00 pm.
Welcome speech: Szilárd Szigethy Lutheran school pastor
Christmas concert by the pupils of the local Lutheran school: Székács József Evangélikus Óvoda, Általános Iskola és Gimnázium
17:00 concert by Kon-Tiki band held (the local Cultural Centre, Bubik hall)
17 December 2017. 16:00 pm.
Welcome speech: Éva Halustyik local director of Regional Child Welfare Center and Family Support Service – Orosházi Kistérségi Egyesített Gyermekjóléti Központ és Családsegítő Szolgálat
Christmas concert by the pupils of the local school: Orosházi Vörösmarty Mihály Általános Iskola
16:45 concert by Veca Janicsák
23 December 2017. 16:00 pm.
Welcome speech: László Iványi honorary canon, vicar of Jézus Szíve Plébánia
Christmas concert by the pupils of the local Catholic school: Eötvös József Katolikus Általános Iskola és Óvoda
Pictures of Orosháza Advent