Our spa first received guests on May 15, 2021, and then we opened our pools according to a continuous schedule until June 18. Unfortunately, the 4 indoor pools of our Adventure Bath are not expected to be operational until the end of the summer of 2021, cdetailed information can be found here.
IMPORTANT: According to the current legal regulations, we can currently only receive guests with Hungarian, Romanian, Serbian, Slovenian and Moldavian citizenship, but also only those who can present a VALID PROTECTION CERTIFICATE, an identity card and an address card upon entry from the age of 18 - regardless of whether they want to enter the outside or inside of our spa.
New prices from June 18, 2021
We introduced new prices in our spa from June 18, 2021, the detailed price list can be found on our prices page. Residents with a permanent address in Orosháza can use the 50% discount again, unfortunately it is no longer possible to use the "regional discount" from 2021 onwards.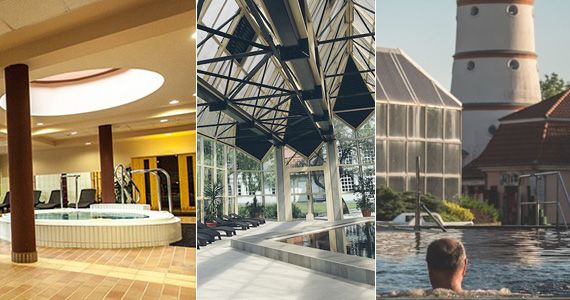 Map of Gyopárosfürdő: valid from 18 June 2021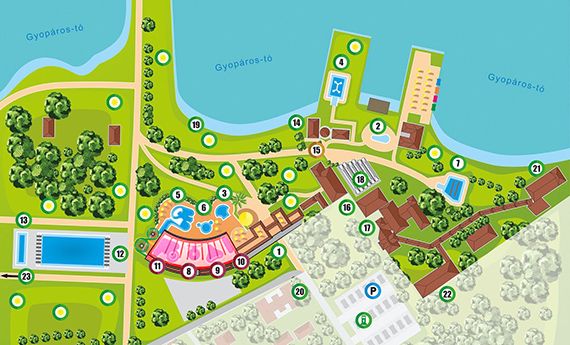 Legend
13. Training pool (OPEN)
14. Dining Center (OPEN)
15. Lookout tower (can be visited on special request)
16. Health Care Center (partially open, please call)
17. Medicine Center (partially open, please call)
18. Indoor thermal spa (OPEN)
19. Boat rental (OPEN)
20. Fehér Hattyú / White Swan Restaurant & Pension (OPEN)
21. Corvus Hotel (OPEN)
22. Napsugár / Sunlight Hotel (OPEN)
23. Thermal Park Camping (OPEN)
P – paid parking with e-car charging (free parking 260 meters away)