The latest piece of public art can be found at the newly built Main Square of Orosháza. The five-metre high creature was dreamed and carried out by the artist couple Júlia Kovács and András Szilágyi.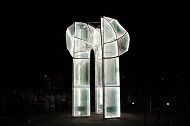 Júlia Kovács, Ferenczy Noémi award winning glass designer artist, who studied at Szeged, Tömörkény István secondary high school ceramics department and graduated from College of Art, glass department, in 1972. During the years from 1972 to 1979 she was the designer of glass factories from Nagykanizsa and Salgótarján. She has been an independent artist since 1980. Her husband, András Szilágyi, is also a glass designer artist. They live in Dömsöd.
The glass sculpture with the title "Re-population of Orosháza" is unique in Europe with its 5 metre height. Light and sound effects during the evening hours give the Main Square a special atmosphere.
The choice of placing a glass pear tree in the most visited place of the town has symbolic reason. The material itself refers to the main industrial activity of the town, glass factories represented the fund of local industrial life, gave start to developments of past decades. The pear tree refers to a historic legend: in year 1744 the new settlers arriving from Zomba on Saint George's Day to the invitation of the new landlord, found a single wild pear tree in the deserted area to which they could tie their horses.
Visitors who go for a walk in the Main Square of the town will get a picture of the current and contemporary Orosháza through this piece of art.
Pictures