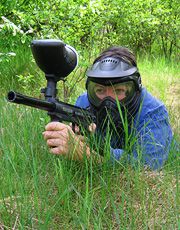 Paintball is the perfect solution both for relaxation and for team building.
On top of that local fields are super, Orosháza being the paintball capital of Lowland area: equipped with seven various fields. Visitors are welcome on an overall site that covers 10.000 m2. Try this new form of entertainment, which is an exciting and adrenalin pumping activity.
We currently offer two types of paintball fields: speedBall and woodsBall. The fields were partly built for the training of local border guard officers…
What is the basic paintball equipment you need? Wear old sports clothing and shoes – everything else is provided on the spot: paintball guns, paintballs, masks and safety gears.
For further details click on our website: http://paintball.oroshazan.hu/
Paintball pictures