Fehér Hattyú Pension
5904 Gyopárosfürdő, Fasor u. 13.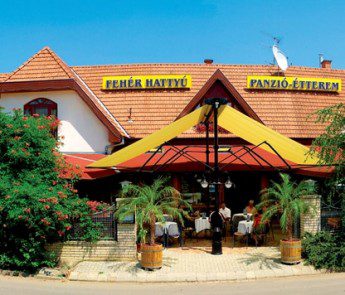 +36 68 510-330
pansio@feherhattyu.hu
www.feherhattyu.hu
46.566831, 20.628929
12 room
38 space
6.000 HUF/Night
20 m - from Bath
3.800 m - from Downtown
This family run pension with its welcoming atmosphere is situated in a recreation area, directly opposite the spa complex. Its maximum capacity is 24 guests, open all year round, guests are welcome from 0-24. The pension disposes of a safe, closed parking lot, equipped with security cameras. Free access to Wi-Fi all over the pension. Services available for extra charge: extra bed, pets, laundry service, ironing, photocopying or fax. Families with children can use our baby-friendly services. Cooking and BB facilities are provided in the courtyard of the pension. Payments can be made by cash, credit card, bank transfer or SZÉP card. We also offer different packages to our guests.
The pension with a pleasant atmosphere offers 10 rooms of different type. Double rooms are available either with a double bed or two separate beds. Extra bed is available upon request. All of our rooms are air conditioned and equipped with phone, TV, Wi-Fi, bathroom and mini-bar. Altogether there are 6 double beds, 1 room with four beds and 3 apartments with extra bed upon request. The restaurant situated on the ground floor can seat up to 70 guests + 80 guests can be seated in our terrace, perfect for family and company reunions. We offer place for any kind of events, including wedding receptions. Our restaurant offers both traditional and special dishes. In the courtyards our guests can enjoy live music on some occasions.
General information
Accessible for disabled people
Cooking facilities
Facilities for barbeque and grill
Heating
Open: all year round
Outdoor furniture
Pets allowed
Playground, swing
Private court
Separate entrance
WiFi, broadband internet
Room (apartment) equipment
Air conditioning
Baby bed
Bathroom with shower
Bedlinen
Coffee machine
Cutlery
Double bed
Electric cooker
Electric kettle
Extra bed
Freezer
Fridge
Gas cooker
Hairdrier
Microwave oven
Non smoking rooms
Pots and pans
Refigerator
Satellite/cable channels
Single bed
Baby friendly services
Baby bed
Baby chair, high chair
Baby tub
Payment options
Bank card
Bank card (Maestro, Visa, Master Card)
Cash
Erzsébet checque
SZÉP-card
SZÉP-card (OTP, MKB, K&H)
Catering
Breakfast
Without catering
Parking
Parking in closed courtyard