Harkály Guesthouse
5904 Gyopárosfürdő, Harkály u. 22.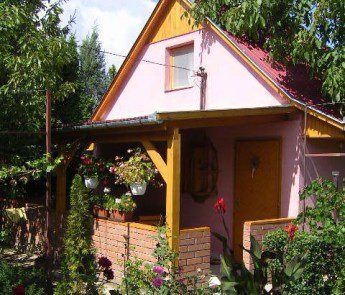 +36 30 553-1923
szendreianna@freemail.hu
46.568288, 20.633376
1 room
3 space
3.000 HUF/Night
500 m - from Bath
3.800 m - from Downtown
The guest-house is situated in the suburb area Orosháza-Gyopárosfürdő , at a distance of 2,3 km from the town centre. The distance from the spa is 500 metres. Placed in a quiet area, our high quality guest-house is open during the summer season only. There are 2 rooms in the house with capacities of 2-3 guests each. Bed linen and satellite channels are provided in each room. Catering is not possible, but a fully equipped kitchen is at the guests disposal. At the entrance of the house a covered terrace provides shelter from the rain, which is an ideal place for sitting and chatting. The house has a private court yard. In the garden, guests have the necessary facilities to prepare and cook a barbecue or grill. The provided garden furniture guarantee our guests' perfect comfort and relaxation.
The guest-house is ideal for small families (2 adults + 1 child) or couples. Pets are also welcome in the house. Parking place is provided in the private court yard of the house. Payment is possible only in cash. Our guests can enjoy the wide range of services offered by the spa complexity with adventure pools, thermal bath and outdoor pools, which is just a few minutes' walk from the guest-house. The available services include: sauna, different massages or therapies. Furthermore, guests can go for a walk or a bicycle ride or jogging around Gyopáros lake. The surrounding area offers facilities for bowling, tennis or table tennis. Guests can reach the town either by car or by public transport. Visit the numerous sights and programs. It can be nice to walk around the newly built main square of the town. Further attractions include Historical Memorial Park or Szántó Kovács János Regional Museum.
Soba -apartman-oprema
Čaršaf
posuđe
Escajg
Frižider
pansion
Opšte informacije
Mogućnosti kuvanja i pečenja
Grill, mogućnosti paljenje vatre
mogućnost unošenja ljubimaca
Otvoreno: sezonalno
Sopstvena bašta, deo dvorišta
Način plaćanja
parking
Parking u zatvorenom dvorištu