On the third week-end of July, from 17 to 19 July 2015 a major summer event, the annual Sausage and Beer Festival will take place in Orosháza-Gyopárosfürdő. The festival offers an impressive and colorful program without an entrance fee, but with the performance of popular bands like Tankcsapda, Majka and Curtis, cold beer and hot sausages.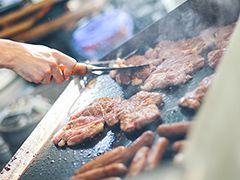 Based on the success of the previous years, in 2015 Orosháza will host this major programme of the region for the fourth time. The location will be Gyopárosfürdő, on the grassy area next to the spa complex.
Whilst there is no entrance fee, our guests can enjoy a festival with various programmes, gastronomic specialities, programmes dedicated to children and concerts with well-known bands.
The main attraction of this three-day festival will be the Friday night programme free concert of Tankcsapda Hungarian rock band, as well as other performers like Irigy Hónaljmirigy, or Mystery Gang and Maya and Curtis on Saturday evening.
Children will delight in the open air jumping and bouncy castles, arts and crafts corner or obstacle courses. Visitors of the festival as well as lovers of beer specialities will receive a free gift of a pair of sausage after every second consumed pint of beer.
Visitors wishing to cool off by making a splash in the refreshing pools of the spa, can visit the Gyopárosfürdő spa for an unforgettable spa experience known as The pearl of the Hungarian Lowland area, surrounded by a 20 hectare park. The spa disposes of a park with outdoor pools, adventure pools and thermal pools.

Detailed programme
17. July Friday
15:00 Opening ceremony
15:45 Extreme Sport Show
16:15 Harangos Néptánc Együttes
17:00 Orosháza Brass Band
17:30 Best Dance Company
18:00 Irigy Hónaljmirigy
20:00 Tankcsapda concert
18. July Saturday
Sausage eating competitions
15:00 Candy Dance Crew
15:30 OKKSZK Karate and Aerobic Show
16:30 Redance Hip-Hop Crew
18:00 Mystery Gang concert
20:00 Majka és Curtis Live concert
19. July Sunday
Folk Festival Gellértegyháza
Arts and crafts fair named Oros-Kosár at the Main Square of Orosháza
On the third day of the festival the Foundation for the Historic Gellértegyháza will prepare a unique attraction for guests. On Sunday a Folk-Festival will be organized with various entertaining programmes.
Accommodation
In the centre of the town Orosháza and its holiday district called Gyopárosfürdő all in all 40 accommodations of various types are at the disposal of guests, including hotels, pensions and guest houses. During the festival a Dotto train will circulate from town to the holiday district covering a distance of 3 kilometres. Make your reservations for accommodation on our site or use the Booking.com site specialized on accommodations!
Travel
On friday and saturday a Dotto-train will be operated from the city centre to the spa Gyopárosfürdő, situated at a distance of only 3 kilometres from the town centre. The train service will be available from 14:00 to 23:00, with departures every half an hour. The train service is free of charge from 14:00 to 18:00.
Informative materials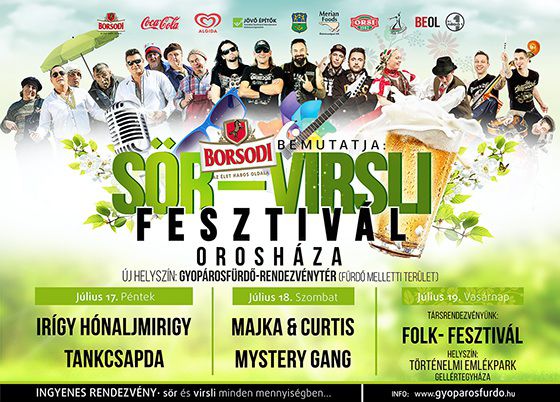 Pictures of the last year's festival
Map