Don't miss the 3rd Beer-Sausage Festival on the second weekend of July 2014 in the Gyopárosfürdő Thermal Spa, Park and Adventure Pools in Orosháza, South-Hungary.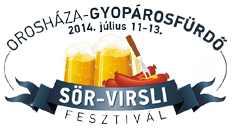 After the success of previous years, the 3rd. Beer-Sausage Festival will be one the largest annual events in Gyopárosfürdő. Cold beer, warm sausages, the outstanding Gyopáros Spa and our well known entertainers such as Magdi Rúzsa and the Bon-bon band will guarantee an unforgettable experience for you and your family.
Visit us on the 11-13. of July 2014 in the beautifully kept, twenty acres forest park of the Gyopárosfürdő Spa and enjoy whole-day programs such as sports events, free cooking competition or family entertainment. Or simply relax in the cool blue water of our outdoor pools and discover our indoor spa and its fun slides.
Outdoor adventure games, craft courses and a bouncing castle avait the youngest ones, while the elder can join a fine pool party with a famous hungarian DJ.