According to the decade tradition the Park with outdoor pools opens starting from 20 May 2019, which date marks the beginning of the summer season at Gyopárosfürdő. This year, however, is different from the previous ones: numerous programmes and accommodation facilities are available from April. In this way it is especially worth enjoying the first summer sunshine!

The terrace with outdoor pools of the Acquapark opens for the first time from 27 April 2019, Saturday.
The summer price list comes into effect from 20 May 2019. Starting from this day the main cash desk will be open from 06:00 to 21:00.
Adventure Park: open at the long week-end
Taking into account the Easter long week-end Alföld Gyöngye Adventure Park will be open from 19 April 2019.
Campsite available from April
This year the Park Campsite will open on 15 April 2019, while Erdei Campsite with wooden houses will start on 20 May 2019. It is good to know, that our Park Campsite was extended with 5 wooden houses, each with a capacity of 8 guests. In this way all in all 40 guests can be placed. The houses are ideal for school trips or summer camps.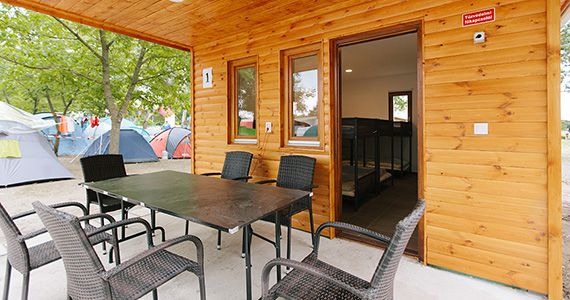 The successful free service of animators will go on this summer, too. Furthermore our guests can choose from a wide variety of massages, wellness and health services.
And that is not all: we are preparing for this summer with a wide variety of programmes, which will hopefully exceed the series of programmes of last year called Orosháza Summer 2018 – further details will be soon available on our website.
Gyopáros park and outdoor pools images
50 metre swimming pool